Thanks for visiting! Just a fair warning this post is fairly 'old' in tech terms and may contain outdated information and/or broken links or pictures. Please verify info and feel free to
contact me
if questions!
When I first saw the Kindle 3 (is that even the new name?) was going to be offered with WiFi, I thought that was cool.  Then when I saw the price (USD $139) I figured it was a no-brainer to explore.  I had bought my wife a Kindle 2 a while back ($249 when I purchased it) as she is a reader and I thought she'd like it.  She does.  It turns out though, so do I!  I've found myself reading a LOT more lately and I really like the versatility this provides me in switching between books.  (If you are interested in seeing what I'm reading or just finished you can see my list on goodreads.com.)
Anyway, back on to the Kindle 3.  I just got mine today and wanted to share my first impressions/comparisons.  By no means is this an exhaustive review, but I compared for my own edification and thought I would share.
First Impressions
Amazon's packaging of the Kindle since their first versions are great.  The self-contained box is awesome…unzip the recyclable cardboard and there it is.  No additional box to open.  It's simple, and puts the focus on the device.  The box includes 3 things: Kindle, power cord and a user guide (that I almost mistook for a Field Notes large notebook).  The new device is compact, well-designed and attractive.  My first impressions were very good.
Power-on experience and WiFi connectivity
I powered it on and was instantly ready to go.  The user guide popped up with some initial information.  Having had a Kindle before, I ignored it all of course.  The next screen encouraged me to register the device and change the device name.  Before I could do that I needed some level of connectivity.  My home has two stories and my wireless router is upstairs behind a structured wiring panel.  For my laptop, mobile devices, etc. this hasn't been a problem.  It isn't the strongest signal, but it has done well.
The Kindle saw the wireless network fine and showed an adequate representation of signal strength.  I entered my password (WPA2) and it failed to connect.  And then I entered it again and it failed.  And again.  Then I tried "manual" and essentially just verified the information and clicked connect (my WPA2 password was already filled in the manual registration based on previous attempts).  This time it connected.  My gut tells me that the WiFi antenna isn't the strongest on the Kindle device, so keep that in mind where you plan on using it.  I don't see this as a huge issue as generally when you'd use it you are likely to be in a good range.  But so far my experience is that the range is much less than normal for Kindle than for other traditional devices.
Transferring content
There was an option for "transfer" of existing data (email profile and data).  Since I was planning on keeping both of them I chose to skip that.  There was an option to transfer Collections created from another device.  It showed me my device list, I selected it and the collections were transferred.  Simple.
Hardware
The hardware is physically smaller than the Kindle 2: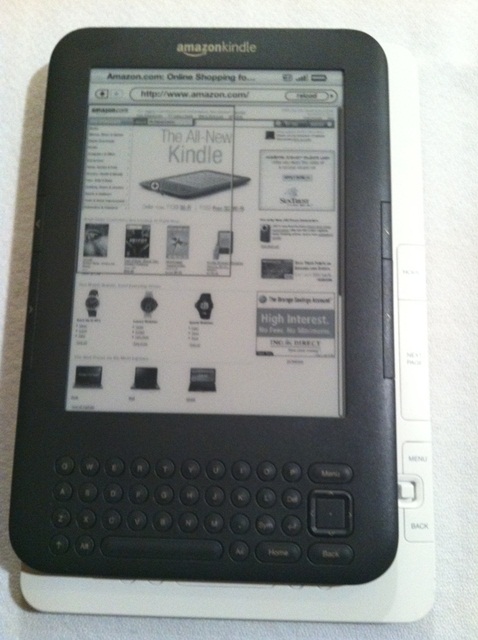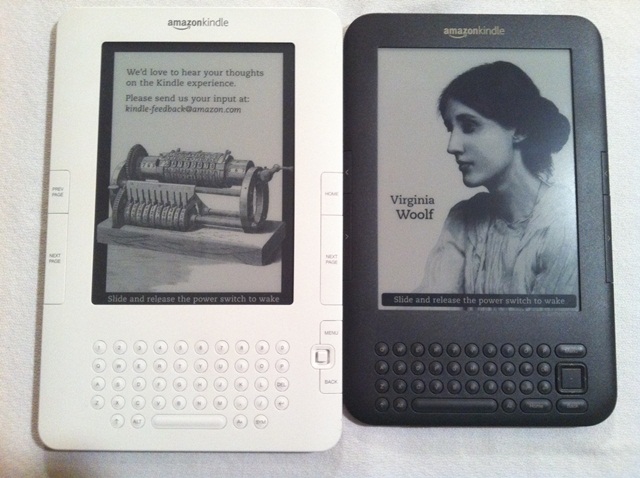 If you look at the second picture above you'll see how they were able to reduce some width and height.  NOTE: While I'm sure there are some millimeter measurement differences in the thickness, I found it to be negligible…the blind eye wouldn't notice much of any difference.
I tried to line up the screens (which is the same size) so you could see where the reduction is.  The keyboard keys are spaced the same amount apart (again maybe millimeter closer), but notice the removal of the numbered keys.  That eliminated an entire row from the keyboard.  On the width side of things, the next/previous page buttons are no longer labeled and are much thinner – this is noticeable, and welcomed.  There is now matching next/prev buttons on both sides of the Kindle so no matter how you hold it.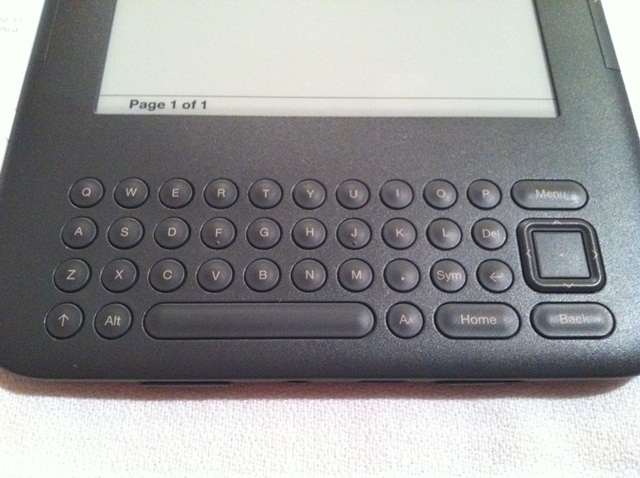 The home, menu and back buttons are moved into the keyboard area along with a d-pad like replacement of the Kindle 2's knob, again a welcome replacement in design and usability for me.
The Kindle 3 also seems to weigh a slight bit less and I think this is due to a more plastic design than the metal backing on the Kindle 2.  I like the new Kindle material as it feels a little less industrial and more stylish. 
Be sure to protect your Kindle with a case. Caseable has a good set of them and allows you to create custom Kindle cases
Software
One of my nags about the Kindle is not in the reading responsiveness, but rather in interacting with the menu system, the store, and navigating the device.  I was pleasantly surprised on the new Kindle 3 at the speed and responsiveness in everything I interacted with.  For me, this was very noticeable improvement on my previous experience.  The Kindle 2 isn't bad, but it's like driving a 200 horsepower engine after just driving a 550 horsepower engine.  The former isn't bad and is adequate, but now that you've had more power, it's hard to enjoy the adequacy. 
I think that this will greatly improve my overall experience on the device and for others.  The knob on the Kindle 2 may actually be the issue as I've always felt a delay in response after issuing a command.  Not so on Kindle 3 as interaction with the d-bad/arrows has been immediate for me.  Page turning comparisons between Kindle 2 and 3 is about the same in my book.  I want to believe the new one is faster, but honestly I can't tell much of a difference.  It wasn't bad for me before.
The software on the Kindle 3 reads "3.0" whereas my Kindle 2 is 2.5.6 right now so understandably there are some differences.  Perhaps the Kindle 2 will get an update that results in better responsiveness.
Browser
This was the biggest surprise to me.  The browser (which is actually in the "experimental" area of the Kindle OS) on the Kindle 2 sucks.  It barely works.  Lynx is a better browsing experience.  Seriously.  Knowing this I fired it up on the Kindle 3.  Wow.  I was impressed.  Here is Amazon's home page on Kindle 2: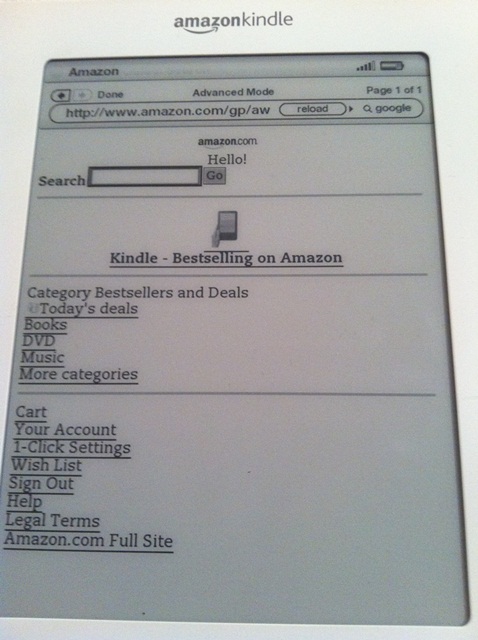 and on Kindle 3:
Most other sites are able to render well also.  Sure it is still monochromatic, but I don't expect to be watching Hulu or anything on my e-reader.  It's a primary-purpose device for me with ancillary benefits…and a MUCH better browser is a welcome experience for the few times I've actually wanted/needed to use it.  Bravo Amazon, bravo.
Wireless connectivity
Now the Kindle 2 always came with "3G" connectivity…that was the only wireless option.  The Kindle 3 offered a new option, WiFi only (in addition to WiFi+3G for a larger price).  I chose the WiFi only one because the times I've actually used the wireless connectivity (to buy a new book and to sync pages for my other reading devices) has been in areas where I would have had WiFi anyway.  The cost savings made it even easier of a decision.
The WiFi seems adequate speeds when connected to an access point in good range.  Again, this isn't as big of deal for me because I don't use it that much.  My Kindle 2 sucked down battery like crazy when I kept wireless on.  I'm keeping WiFi on my Kindle 3 initially to see the battery life.  Honestly though, unless I'm actually interacting with connectivity, I turn it off anyway…there isn't a need for it on otherwise in my opinion.
Summary
If you've been holding back on getting a Kindle, the $139 WiFi only version just released should remove most, if not all, barriers in your decision.  For what you are getting on that price in an e-reader is amazing.  Sure I can get an iPad for 3x the cost and have Kindle on that, but I'm not sure it would make a good e-reader as a primary purpose device.  Also, take a look at this comparison of quality for reading purposes between iPad and Kindle.
UPDATE: Look at the microscope comparison of quality from Kindle 2 to Kindle 3

My initial impressions of Kindle 3 as a previous Kindle user are awesome.  I'm impressed above the existing device I have and would recommend Kindle 3 to anyone on the fence about getting one.  If you think it is an iPad competitor, then you won't be happy with it, but compared to other reader-specific devices out there, the price, the design and the available library of books is unmatched.  Go buy it now.
Please enjoy some of these other recent posts...