Thanks for visiting! Just a fair warning this post is fairly 'old' in tech terms and may contain outdated information and/or broken links or pictures. Please verify info and feel free to
contact me
if questions!
So the news is out! 
Silverlight IS the platform for Windows Phone 7 Series development!
Sweet.  We also made available an update to Silverlight 4 that you might be interested in too!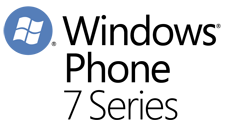 You may be wondering how you get started.  If you are new to Silverlight, I recommend getting familiar with Silverlight first.  You can find all the tools you will need at the Silverlight community site.  In addition to the core tools you'll want to get the Windows Phone Developer Tools CTP.  This will add to your Visual Studio 2010 installation (or install Visual Studio Express) to enable Windows Phone and XNA Game Studio development.  Be sure to read the documentation on the release notes to understand any limitations.  A link to the tools, documentation, developer/UX guides and more can be found on the Silverlight for Windows Phone page.  The key elements you'd want to get  are:
I've also taken some quick time to get some quick videos up for some tips and familiarity with the tools and some initial areas you'll want to take a look at.  Here are some starting videos for you:
The getting started video has some quick tips and tricks about the emulator and using the keyboard input control (referred to as the 'SIP').  I suggest taking a look at these for some primer.  If you have questions afterwards, check out the dedicated forum for Silverlight for Windows Phone.
I'm looking forward to seeing what you'll develop using Silverlight for Windows Phone!  Be sure also to watch for @ckindel and @wp7dev on Twitter for information about Windows Phone 7 Series development.
Please enjoy some of these other recent posts...