Thanks for visiting! Just a fair warning this post is fairly 'old' in tech terms and may contain outdated information and/or broken links or pictures. Please verify info and feel free to
contact me
if questions!
I'm in the process of relocating.  I'm relocating to a state I'm not familiar with and have no close friends/family that can serve as my go-to proxy on a real-time basis for house hunting help.  Short of being there, this leaves the internet for my wife and me to do searching and narrow things down.  We had 2 trips to the new location to do some house hunting.  This means that we had to do all our research before to make those 2-day adventures worthwhile.  Welcome to the internet and real estate.
Now, there are plenty of good real estate sites and I know about all the good ones and we used them.  Trust me.  We've been breathing real estate for the past 2 months.  However, most of those sites are driven by the Multiple Listing Service (aka MLS).  This means that people renting their homes without a represented agent aren't going to show up on there.  This makes other places like Craigslist an invaluable source for a plethora of inventory and good deals…but also major issues.  As we've taken 2 trips to our new location after narrowing down online research (with personal communication to interested parties and additional pictures, etc. exchanged) I've come to some conclusions about using Craigslist in this manner I'd like to share.  This is mostly a rant, but hopefully helpful to some who have a place and want it rented/sold.  In fact, most of these tips could apply to selling anything on Craigslist, but generally are my rants on my current experience with people.
Step 1: It's called the Internet
I know this seems obvious, but I was surprised.  Step 1 in listing something on Craigslist is to recognize what you are doing!!!!  You are using the Internet people!  Yes that giant series of tubes that sends information and connects people from all over instantly.  You must absolutely recognize this is new school, new media and Internet speed.  If you think you put an add in a newspaper, you've already failed.  If you think you put a flier up in a Laundromat, you've already failed.  The second you hit post on your Craigslist posting, it showed up in peoples' saved searches, refresh-happy house hunters (like myself for the past 2 months) and real estate spam hounds wanting to contact you to represent you.
This is the Internet – the sooner you realize that the better.  It is a fast-paced method.  If you have never listed anything on Craigslist, then find someone to help you.  Call your son, your local Nick Burns, or otherwise seek help.  If you only use the Internet via AOL…I'm here to say that Craigslist might not be for you and you clearly aren't ready.  Do not skip this important step of understanding what you are doing before you embark.  If you do, all will fail for you and you'll look like an idiot.
Step 2: Pictures, pictures, pictures…and more pictures
Because this is the internet and not a newspaper, you have the opportunity to do more.  Selling something online…especially real estate…means you have only one option to grab my attention.  It is a visual world now and you must put up the best possible showing of your property in one place. 
Take pictures.  A ton of them.  Overtake pictures.  Even the world's cheapest digital cameras these days are capable of creating high-resolution 1024x768 pictures.  You should be taking no less than that size.  If you feel you don't know what you are doing, then consult a professional.  You may wince at the thought of paying someone to take pictures of your house for sale/rent…but it is a fraction of the cost of what you are selling/renting for and if gone quickly you'll reap the ROI on that cost (which shouldn't be huge, relatively speaking) immediately with a quick rental/sale no doubt.
About the subject matter of the pictures…
I'm looking for a rental/sale – not your opinion.  Your house is the subject.  Pictures of the local grocery store don't help.  I know what a Safeway looks like, I don't know what your home looks like.  Here's some tips:
Take pictures from all different angles.
Use a wide-zoom lens if possible (hiring a pro will get this done)
Take multiple angles
CLEAN YOUR HOUSE
Don't take pictures of your crap, if the room is cluttered, heck just move it to the hallway while you take a picture
Make sure you take the picture in good light and don't let sun flares or massive light coming in through windows obstruct the photo
Taking pictures of views isn't out of the question, but shouldn't be primary.  As an example, this picture tells me nothing of the house: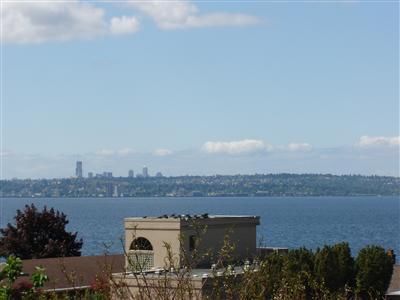 Sure it might be a great view, but you need to sell me on your house first.  If you have a crappy house, I don't care about the view!  And views alone don't sell homes anymore…there are just too many options and inventory for people to choose from.  Here is another example.  What tells a better story about the bathroom?  This one: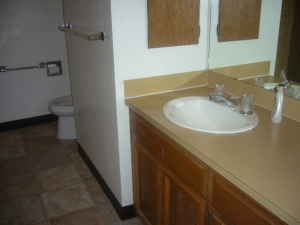 Or this one: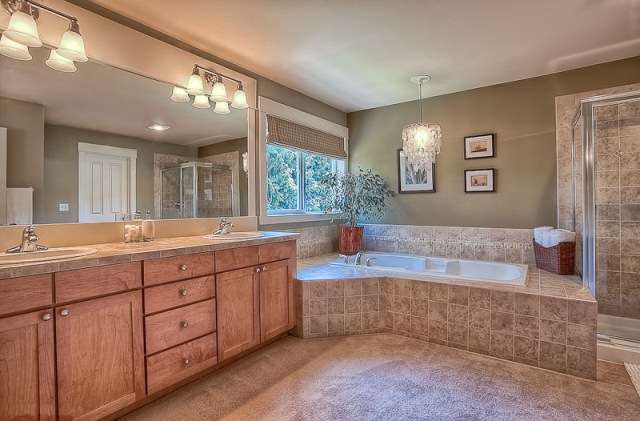 Now you can absolutely argue my 2 picture samples above represent two different home styles, but my point is still valid.  The second bathroom picture puts me in the room.  The first showed me a sink, partial floor and the front of the toilet (and is dark).  It leaves me guessing a lot more than the second.
Now, if you've failed to consult a knowledgeable person as I indicated in Step 1, then you are left with dealing with what the Craigslist options have for pictures which means you are presented with this view:

This allows you to upload 4 pictures and in relative small size with no 'biggerize' options.  Should you upload four pictures?  Absolutely – pick your best ones you think leave a good first impression!!!  But you shouldn't stop there.  If you think you could sell/rent your house in 4 small pictures a) you are cocky and b) you are wrong.  Remember, your home isn't the only one being searched.  In fact as someone browses your pictures they already have multiple tabs open in their browser of the next 4 I bet (I had about 20 at a time).  So, you ask, what could you do?  Allow me to point you to just a few of the hundreds of free photo sharing sites available for you to use and set up with no effort:
It isn't that hard.  And this is where you can put as many pictures as you can and in the higher resolution and bigger size.  It can even present a slide show allowing you to annotate your pictures and let the viewer know which room they are seeing.  Don't keep the "IMG_2345.JPG" on it, but instead after uploading change the title to "3rd Bedroom 10x10" for maximum information.
Remember, get your crap out of the picture as well.  You are selling your home, not your stuff.  You need to give me the absolute best first impression.  While you may value your refridgerator magnet collection and crap on your counter, I do not.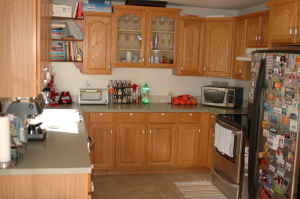 I want to see how much space I have and not distract my eyes!  It might not also be a good idea to show adverse weather pictures of your home.  While you might love the look of your home, remember it might instantly show the viewer "wow, I'm going to have to shovel a lot of snow to get to the door" and that isn't what you want to sell is it?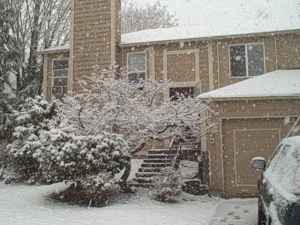 Some people may want to see this, but anything short of sunshine isn't the best way to show the house.
I can't stress enough good pictures.  This is the most important thing you can do.  In an online world, this sells/rents your home first.  And don't let your listing agent put a picture of them casually in the photos for some free advertisement…trust me they are getting enough (and it doesn't tell me anything about the house):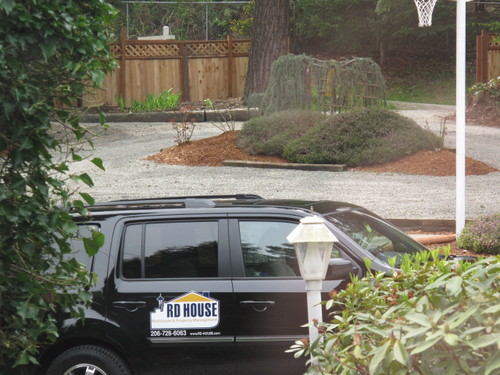 And seriously, move your crap out of the way before you take a picture.  Want to see examples of the best?  Check here.
Oh and you might want to check Google Street View and Bing Maps Birds-eye Views of your home.  Because no matter what type of picture you take and you try to hide your Sanford and Son neighbor, satellite imagery doesn't lie.  In fact, those would be two good images to include in your photo gallery.  Heck a silent video walk through of a house might even be super preview action!
Step 3 - Contact Info
Don't even think about listing your home sale/rental without contact info.  You do want to sell/rent it right?  Then don't hide behind obfuscated emails.  Craigslist gives you the option to do this (and I think you should), but also give me immediate contact info.  Put this in the advertisement.  "For additional information or to schedule an appointment contact Jane Doe at 444-555-6666 or email [email protected]" – honestly, give me a way to contact you.  I'm seriously surprised how many listings we saw without a mechanism other than the craigslist default…which I feel goes into a black hole.
If you do only choose to use the Craigslist obfuscated email, then CHECK YOUR EMAIL OFTEN – by only providing email as a mechanism, people are expecting you to check it…more often than once every 2 days.  Remember Step 1 – Internet speed.
Step 4 – Create factual/informative descriptions
The fact that we saw so many listings of "Located in the most desirable neighborhood of XXXXXXXX" made me laugh.  This is wrong on so many levels.  First, desirable to whom?  To you and to people who live there only.  But if the commute is an hour and there are no major grocery stores within 2 miles, then it might not be desirable to others.
Another funny one is "Close to Company X, Company Y" – what does that mean?  EVERY listing we read was "close to Company X" – wow, then there must be nothing but houses near where I need to work!?  FAIL.
Here's what you need to do: be specific and realistic.  Don't be zealous in your descriptions.  State the facts and as much as possible:
Clear description of costs (if rental, deposit and fees)
Size of living space
Year built (and builder if you know)
lot size, if known
# of bedrooms – actual bedrooms, not things that might be considered a bedroom – a bedroom is a closed door room with a closet.  A bonus is measurements of bedroom dimensions (i.e., Bedroom 2: 10x8, Master: 12x12)
# and type of other rooms
Appliances and types (are they gas or electric)
"High tech cabling" is a checkbox option that means nothing to a geek.  If you have CAT5 wired throughout the house, then note that.
When was the flooring most recently completed as new?
Garages and space (bonus for measurements of garage…not sq foot, but dimensions)
Names of schools (Elementary, Middle, High) in the boundary (links to them would be great)
Distance to schools in miles ("walkable" means different things to different people…just list the distance)
Distance in miles to closest landmarks (again "close to Microsoft" isn't helpful.  It should be easy to find the exact distance but let me help you.
Distance in miles to closest amenities (Grocery, Bank, medical clinic, hospital, retail shopping)
Having factual and informative descriptions gives the viewer a succinct view of the information and helps them make quick decisions that don't waste time for them – and more importantly for you.  You don't want to show homes to people who aren't going to work.
Bottom line – put your creative writing away.  In an online world, in my opinion, people see through your marketing sales-pitchy crap when trying to sell/rent your home. 
Step 5 – List the exact location and/or Show a map
I'm calling this one out separately because I think it is important.  Most people looking have an idea of where they want to be in proximity to something (usually school/work).  I can totally appreciate the need for privacy and concern for safety.  Heck you don't want to show pictures of your vacant home with new appliances and exact address only to find out some jerk is scouring Craigslist to find unoccupied homes to thieve.  I don't know if this is a rarity or not, but I can certainly appreciate the concern.
While an exact address is extremely helpful to me as a potential buyer/renter, if you don't list it, then the general map area will help.  There are plenty of places where you can grab a map image and plot out other things on the map to show a great view of your home in relation to things.  Again, let me help you.  Here's an opportunity for you to visualize those distances you should have listed in your description.  Here's a simple example: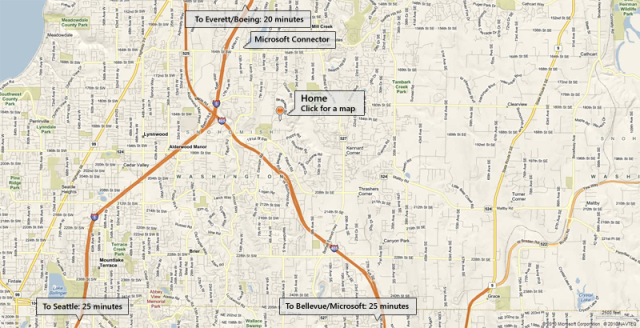 This gives me an instant visual of where it is and if it is in the area I want/need to be in.  It is easy to set up and helps aid your potential buyer/renter.
If your home is not within a city boundary, then don't list it as such.  There were so many homes we looked for in (for example) Kirkland, WA that were actually in Snoqualmie (12 miles away).  Listing your home with keywords that are for other popular areas just makes you look like you are fishing and is dumb and wasting my time.  I'm looking for City X for a reason…stop cluttering my search.  Putting keywords in your listing for every popular major area is the equivalent of spam…don't do it.
Step 6 – Be ready to show the house
Wait, you listed your home but are going to make it inconvenient for me to see it?  You're crazy right?  Remember YOU are the one who wants it sold/rented…there is some level of inconvenience you have to assume if you want to close the deal quickly.  People can be flexible but if you say "I can only show it on Sunday morning at 8am" then you're not being flexible and aren't ready to list your house – or perhaps you should get an agent if you can't personally be that flexible.
Condition is EVERYTHING.  Pictures tell the first part of the story, but the initial feel walking in the home is everything.  There is absolutely something to be said about a clean house.  It isn't always possible especially on last minute notice, but if you really want it sold/rented, then you'll do your best to keep it in 'show condition' every moment.  Put away crap you aren't using.  Clean dishes.  Those marker places on the walls where your kids were creative?  Paint them.  As a landlord you can say "We will paint this soon before you move in" all you want, but it doesn't give a potential renter a good degree of confidence if you haven't yet.
Also, if you have renters currently occupying and they are leaving (hence why you are renting it out), consider giving them incentive to keep it in show condition.  It would go a LONG way.  We turned away from houses that were likely nice, but just looked like crap.  Bottom line: it is hard to see through disorganization and other people's living.  Don't let this happen to you.  I'm not saying you have to professionally stage your home (if you are selling I would recommend), but you know what I mean…I mean spend some time on Craigslist yourself and see what you find.
Oh and if you are a landlord out of state and haven't seen your house in a while, invest the plane ticket to check it out.  That carpet you replaced last year?  Yeah, it's already trashed. 
Step 7 – Paint
if you've got a vacant home and prepping it for sale/rent don't be creative.  I don't care if you think every room should be a different color.  Pick neutral colors for paint.  Create some contrast (i.e. white baseboards and a neutral wall color) for added visual appeal.  If you are going to paint anyway to prepare, then do it right.  Your multi-tone artistic interpretation of abstract shapes will only appeal to you…go plain for everyone else.  Trust me on this one.
Step 8 – Appliances
Are you sure your appliances work?  Are they mismatched?  Again, this goes to care you show your home and what type of landlord you might be.  If I see 4 appliances that are completely mismatched in age, brand and color, then you suck.  You're trying to cheap everything out on the renter and likely won't have long term renters.  Invest well initially and you'll have a better job selling/renting and have an appreciative tenant who knows you care.
Step 9 – Do your research
Are you seriously going to post on Craigslist without seeing your competition?  If so, you're an idiot.  No good sales person sells without knowing the competition.  Think you have the right price?  Are you sure?  What if 2 blocks down the price is $200 less per month.  You may think your home is better, but to renters they aren't considering permanency…so saving cash will likely appeal more than you including those lawn chairs. 
Simply put: do your research for price, features and most importantly how other homes are showing in quality, pictures against yours – remember, visual awesomeness online is key.
Step 10 - Tips if you are using an Agent
This was new to me, but I guess a lot of people use real estate agents to list their rentals as well.  This helps them get on the MLS for broader discovery but also takes some pain away from management of it.  Here's my tips if you go this route.
Remember – the agents are in it for themselves.  Sure, there are good ones and bad ones, but in the end, they are not vested the same as you are in the effort.  They want to close a deal mostly.  Yes I'm generalizing here but after 2 months of dealing with them it is a  fair generalization.  I'd say about < 20% of agents really went the extra mile. 
Tell your agent to read this post :-) -- make sure if they are the ones taking pictures that you inspect them before posting.
If your agent is going to use a service like Postlets that provides a concise view, but also help them walk through the listing (or at least preview it and ask them to change what you want).  The service like that also allows more small previews of pictures beyond the 4 that Craigslist allows.  One thing to keep in mind is that by using an agent/MLS for your rental, they usually set up Craigslist posting on a routine (automatically or have their assistants regularly re-post).  This was a bit frustrating because anything "pending" was still being posted as new.  And these pending ones would never get back to us until we found a main number for the broker to complain.
My most important tip here is Secret Shop your Agent.  What I mean by this is that you've got an agent hired to rent your property.  How sure are you they are responsive and being as convenient to others?  After you have got it listed, have a friend or someone call the listing.  How quickly does the agent get back with them?  How are they representing your home?  You'd be surprised.  We are still currently waiting for calls back from 3 agents we called on no less than 4 times and haven't heard a single thing.  That's a potential rental/sale loss for the homeowner.  A simple quick litmus test of seeing if they are answering their contact information provided in a timely manner would elevate your comfort level that a potential renter/buyer is being taken care of.
Step 11 – Use good grammar
As a final note, and not meant to sound disparaging or anything at all, ensure that you use proper grammar in your listing.  If you are not a native English speaking individual, have someone that is proof-read your listing.  This will help your listing read better and if there is something you are trying to stress, having it proof-read will help.
Summary
These all seem like common sense right?  I've been surprised how flippant people will be with listing their home.  Taking a few moments to do these simple things will make you rise above the rest and I'm convinced get you better renters in a quicker time to close the deal – I guarantee it.  We could have saved a ton of time and not wasted other people's time either if some of these simple steps were followed.
Hope this helps!
Please enjoy some of these other recent posts...