Thanks for visiting! Just a fair warning this post is fairly 'old' in tech terms and may contain outdated information and/or broken links or pictures. Please verify info and feel free to
contact me
if questions!
Having a hard time finding that gift for your techno dweep friend/husband/relative/co-worker?  Probably not if you are subscribed here :-).  But I thought that I'd highlight my favorite tech things this year that I think will make the perfect gift.  Arranged in my order of preference.
Garmin Nuvi (model 260 or 760)
My first pick is the best technology gift I've been given in years.  I received it as a father's day gift this year and wrote how much I love my Garmin Nuvi 260.  The funny thing is that I have GPS in my car, but it is outdated and looking at it makes me think I'm driving a car with a mainframe inside it (3 colors).  As dorky/geeky/nerdy/whatever-term-you-use as I am, I still love this thing.  I opted for the 260 because it has Text-to-Speech capabilities ('turn right on Queen Creek Road' versus 'Turn right ahead'), but the 250 is the exact same model as this and was on sale at Walmart for $95 this season (not sure if it still is).  I did all my research and found that the Nuvi line, specifically the 260/260W, were rated among the best (in my price range).  Sure enough soon after, Garmin has the 760 which improves upon the design and the user interface providing a little better street visuals when you need them and voice commands, bluetooth as well I believe.  If I didn't have my 260, I'd get the 760.  It is available at Costco for a great price and I'm sure elsewhere.  I really, really love this thing and anyone who spends a lot of time in their car will love it to.  If you are buying a car, don't get suckered in for the $2,000 'navigation system' – buy your car, then head to Costco, Best Buy, wherever you prefer to buy your tech gadgets and pick up a Garmin Nuvi model of your liking.  They will be portable to all your cars, use while traveling/renting cars, walking, cycling (we have a bike mount), and you can add maps for other areas (I got Mexico for $65 versus DVD updates for my car at $299).  Trust me, pass on the vehicle systems.  You'll thank yourself.  Oh and when you get on be sure to subscribe to the Garmin blog for fun updates for POI and vehicle icons, etc.
AmazonMP3.com

Okay if you or your loved ones are buying iTunes music still…please stop.  I don't know why you would.  It's some of the lowest quality digital media you can buy out there.  If you have a Zune, and love music, then hopefully you are a Zune Pass subscriber and get all the music you want and the ability to keep 10 songs monthly DRM-free.  But if you aren't, or just want to always have DRM-free music like me (and aren't wanting it for illegal reasons of course), then wake up to Amazon MP3.  They have a downloader application that I highly recommend you use only for one reason if you are an iTunes user – because they have a feature to automatically add your new purchases to your iTunes library.  This little polish makes it almost as seamless as the iTunes process itself.  I've only found a few things that Amazon didn't have and I suspect that was because of exclusive licensing deals with iTunes preventing them from getting the titles.  But I recently picked up the newly released Killers album (great album BTW) for $4.99 (10 songs).  Some of the albums aren't priced that well but I think that has to do with volume.  A 13-album song by Ashley McIsaac was still about $9.89, but a 2 disc Live album from Dave Matthews Band was $7.  Nice.  Oh, and the audio quality is far better (still not CD quality).  Amazon is 256kpbs encoded MP3, while iTunes music is 128kbps.  C'mon, kick your iTunes habit…or buy someone an Amazon gift certificate so they can try it out and kick their habit.
Netflix Subscription

I was an original Netflix customer when they first started.  Then the price point wasn't there anymore for me.  Now it is.  If you rent at least 2 videos a month, it will pay for itself (arguably maybe even just one a month it will).  Some will argue that Redbox is better option (and I think Redbox does fulfill the need for immediate gratification, but my experience has shown that new release titles are lacking and when they are there, my local Redbox doesn't have them when I happen to be near by), but Netflix offers you a multitude of ways to watch movies…here they are:
Traditional DVDs – you queue up what you want.  Build your queue as far in advance as you want – and that's actually the recommendation…when you remember there is a movie you want to watch, add it…then it will be delivered without you forgetting that you wanted it!  This, in my opinion, is the greatest asset to Netflix…it's my entertainment servant.  You can even add non-released movies so when they are released and available they are already in your queue!
Watch Instantly PC/Mac – travel a lot?  Go with the kids places?  Take your laptop and an Internet connection and you can log into your Netflix account and watch movies from your Watch Instant queue.  Not every movie is there (yet) but it is a good selection and I keep kid movies in my queue for this reason.  Oh, btw, this feature brought to you via Silverlight technology…nice.
Watch Instantly XBOX – um, sweet.  Turn on XBOX, navigate to Netflix, watch movie on home theater.  Great quality as well.  This is sweet.  If you have an XBOX and watch at least 2 movies a month, this alone is worth it!
TiVo integration – now you can watch movies from Netflix on TiVo as well!  Holy crud, this thing is everywhere.  Unfortunately for me this only applies to TiVo Series 3 or HD boxes or I'd have Netflix at every media device in my home.  But if Netflix/TiVo wants to send me a free TiVo HD XL for this plug I certainly wouldn't be offended :-) (NOTE: all these are unsolicited just for clarification.)
The plans are affordable.  I am on the $4.99 a month plan which allows me 2 DVDs per month and instant watch features.  So far that has been sufficient.  $8.99 will get you unlimited movies a month (1 DVD at a time).  Fulfillment and return process couldn't be easier.  With Netflix and Redbox, I'm curious why I still even consider Blockbuster?
Flip Video portable video cameras
Looking for a the simplest video camera with the best quality for the price?  Look no further than the Flip Video line of cameras.  I explain it to people as the 'iPod of video cameras' – dead simple.  Power on.  Giant red button for start/stop.  Click another button and plug it in to your computer.  Done.  I have the Flip Video Ultra series that runs on 2 AA batteries.  The newer models have rechargeable batteries, but I really like the flexibility of not having to worry about a charger at all.  I love my Flip.  It is so easy to use, powers on fast (could be faster, that would be my feature request to them), takes GREAT quality audio/video for the size camera it is.  At that's not a knock on it for the price.  Seriously, in a crowded, low-lit room, even my Ultra gets only the audio that I want it to – sure there is ambient noise, but not as much as you'd think.  The video (640x480 on the Ultra) is also great quality.  I am not producing HD-quality movies with mine, but for my home-use to catch those moments, it is great.  And the physical size of the device is awesome.  No bad needed, fits in back pocket while at Disney, etc.  Pure awesomeness.  They have the Flip Mino (smaller version) and now the Flip MinoHD for HD-quality output (1280x720 – gee I wonder why YouTube upgraded seeing how Flip is one of the most popular video recorders now).  They all record only about 60 minutes, but in my experience this has been more than enough to record, dump onto my laptop, and record some more…and usually I never have to do that while at an event or anything…I find my clips are 5-10 minutes each max.  If you need a compact, good quality video camera visit http://www.flipvideo.com – I'm thinking of investigating the HD one myself as an upgrade!
Rockband 2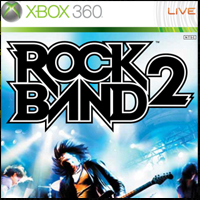 Endless hours of family fun with Rockband 2 for Wii, XBOX, Playstation.  It's the only 'game' my XBOX really sees playtime out of.  The whole family can play and we routinely invite our neighbors over for 'band practice.'  It probably isn't helping my new guitar lessons, but it is an absolute blast to play.  Rockband 2 has a huge amount of songs and has the included 'unlock all songs' feature so no need to go through some R-R-B-Y-BB-RR-GG-Y-B-G-OO-OB hack to get things unlocked.  I think they finally understood that some people want to just play and have fun…I could care less about my score, but really want to jam out to Chop Suey!  I've heard that the instruments from Guitar Hero World Tour work with Rockband and are actually better drums, but haven't tried to verify.  At any rate, if you have a game console in your house and are sick of your kids playing Death By Gunshot Wounds to the Brain, or some other similar title, then pick up rockband, and jam to some favorite songs.  With XBOX Live you can download more and more songs as well…it's great.
So that's it.  These are the techno things that have kept me happy this year.  There are more of course, but these are the top things that I think every geek should have.  Hopefully this helps some with ideas.  If not, oh well.  Happy Holidays.
Please enjoy some of these other recent posts...